Today we had a M 8.2 subduction zone earthquake in northern Chile. I have placed some records of this tsunami here.
Here is the National Tsunami Warning Center tusnami travel time map for this tsunami.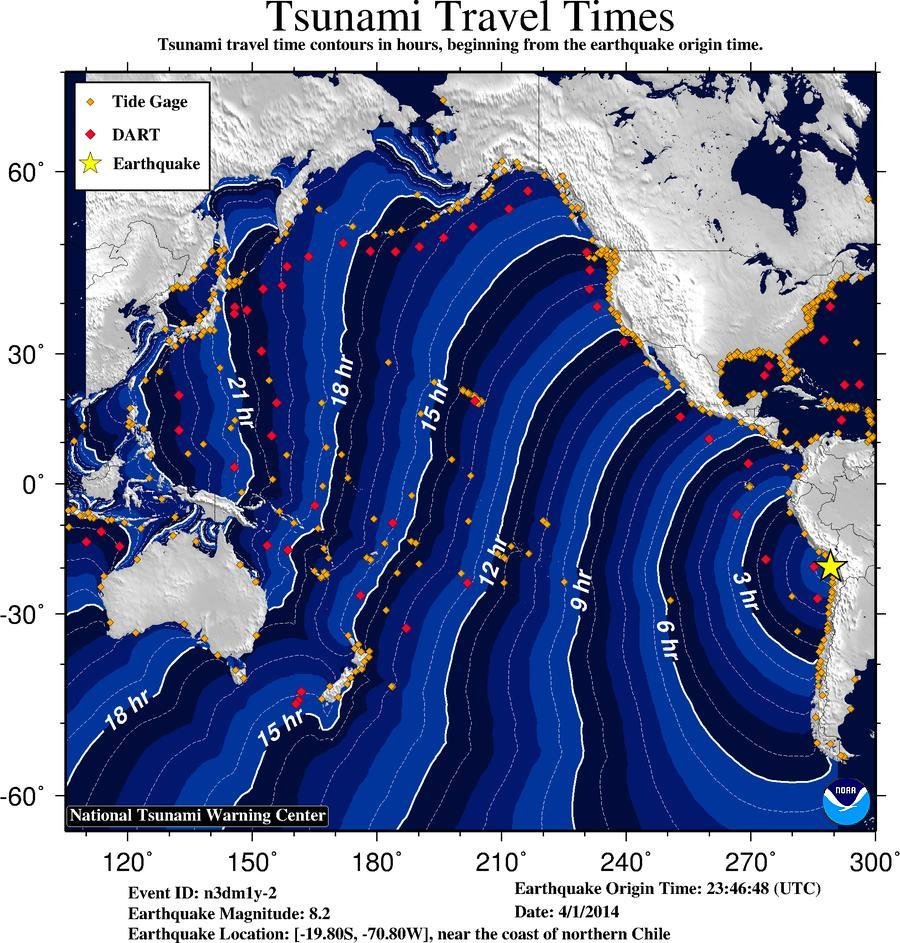 Here is the National Tsunami Warning Center modeled water surface elevations for this tsunami from the National Tsunami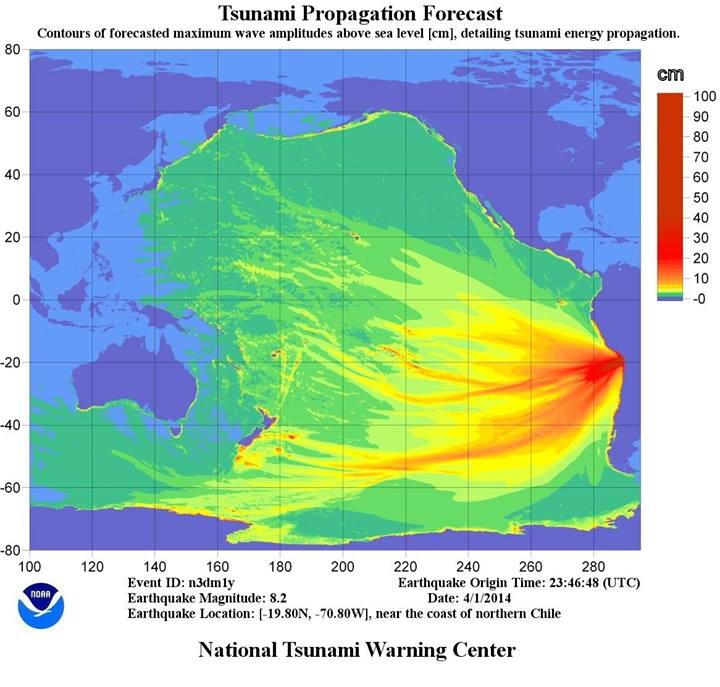 This is the animation of tsunami model estimates of water surface elevations for this tsunami (from noaa)

Here is a video about subduction zone earthquakes and tsunamis from the USGS:

This is the tsunami as recorded in Hawaii as posted by Lori Dengler.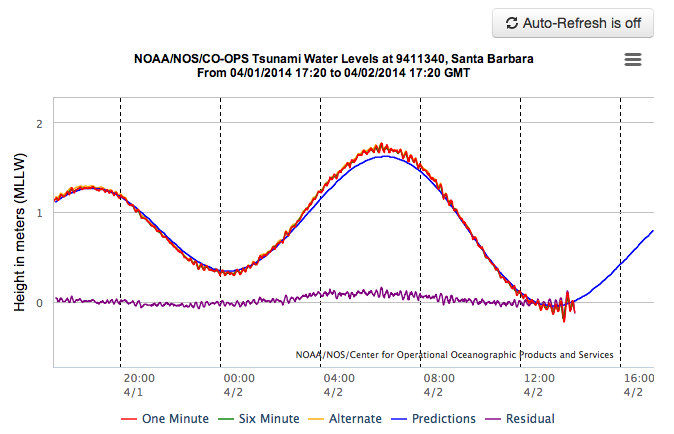 Here are the measured wave heights so far:
OBSERVATIONS OF TSUNAMI ACTIVITY – UPDATED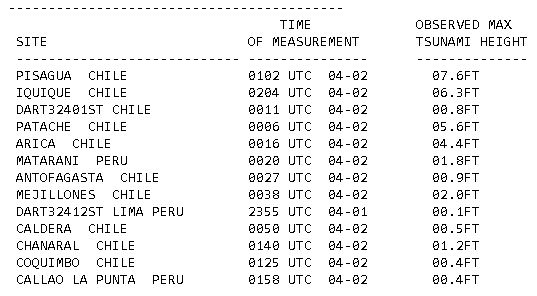 HEIGHT – OBSERVED MAX TSUNAMI HEIGHT IS THE WATER LEVEL ABOVE THE
TIDE LEVEL AT THE TIME OF MEASUREMENT.
In a different format: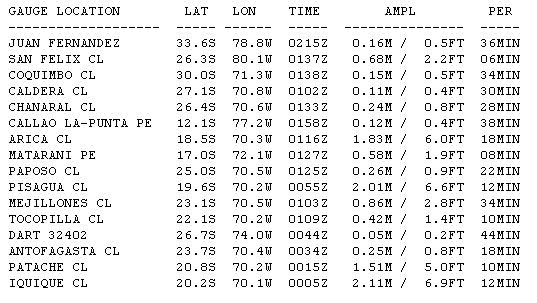 LAT – LATITUDE (N-NORTH, S-SOUTH)
LON – LONGITUDE (E-EAST, W-WEST)
TIME – TIME OF THE MEASUREMENT (Z IS UTC IS GREENWICH TIME)
AMPL – TSUNAMI AMPLITUDE MEASURED RELATIVE TO NORMAL SEA LEVEL.
IT IS …NOT… CREST-TO-TROUGH WAVE HEIGHT.
VALUES ARE GIVEN IN BOTH METERS(M) AND FEET(FT).
PER – PERIOD OF TIME IN MINUTES(MIN) FROM ONE WAVE TO THE NEXT.
NOTE – DART MEASUREMENTS ARE FROM THE DEEP OCEAN AND THEY
ARE GENERALLY MUCH SMALLER THAN WOULD BE COASTAL
MEASUREMENTS AT SIMILAR LOCATIONS.
In 2001, a magnitude M 8.4 subduction zone earthquake in Peru sent out a trans Pacific tsunami. Here is a study of tsunami simulations.
Here is a NOAA simulation of the 2001 Peru tsunami.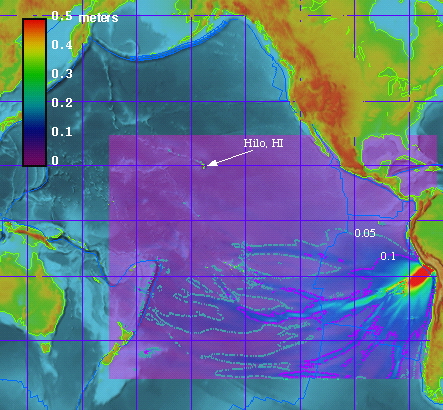 Here is the table of recorded gage heights in 2001. The tsunami heights above and the tide gage heights below are calculated differently.


There was a large earthquake magnitude M 8.0 in 2007 in Peru also.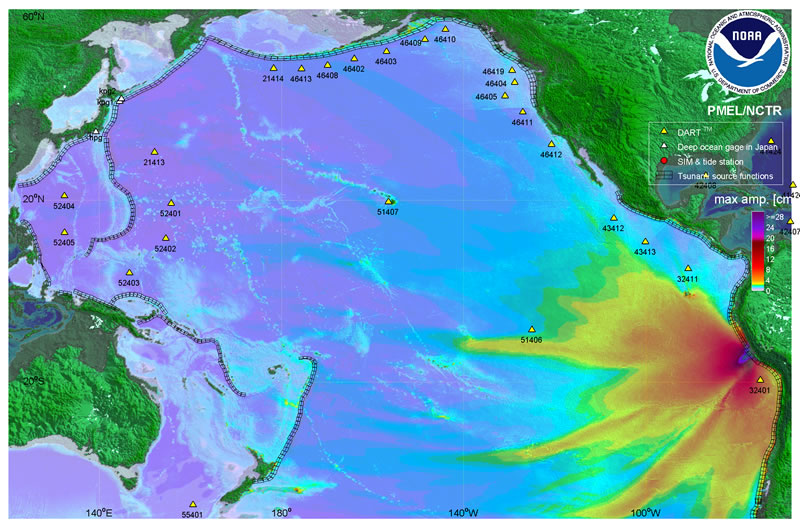 Here are some forecast tsunami arrival times for today's tsunami:
ESTIMATED INITIAL TSUNAMI WAVE ARRIVAL TIMES AT FORECAST POINTS WITHIN THE WARNING AND WATCH AREAS ARE GIVEN BELOW. ACTUAL ARRIVAL TIMES MAY DIFFER AND THE INITIAL WAVE MAY NOT BE THE LARGEST. A TSUNAMI IS A SERIES OF WAVES AND THE TIME BETWEEN SUCCESSIVE WAVES CAN BE FIVE MINUTES TO ONE HOUR.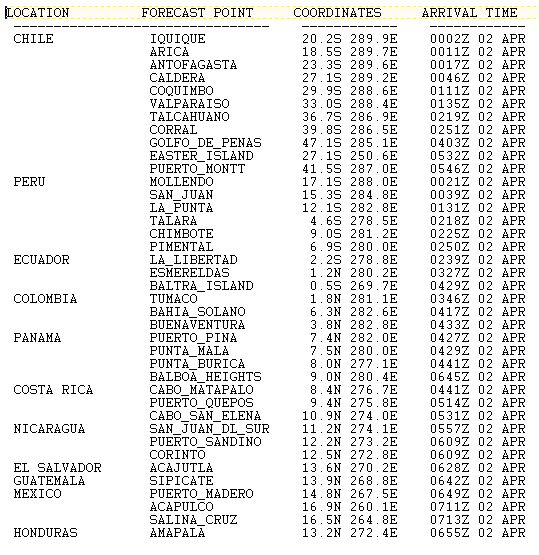 Here are some actual measured arrival times.